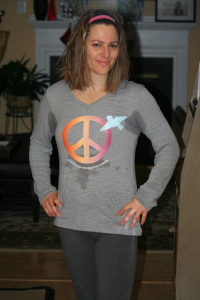 I had a great workout this morning. I woke up at 5a as usual, drank a glass of water, and headed out to Gold's Gym.
I started with a 5k run on the treadmill with the first 2mi done at a 6.5 and then did intervals between 6.5 and 7.5 for the last mile or so.
Then I headed into the weight room and did2 sets AMRepsAP:
65lb OH back squats
45lb hang clean squats
65lb back squats
25lb push presses
25lb lunges (back and forth the length of the room)
50 bench jumps
Then I did core work:
30 push-ups
15 bottom up push-ups
15 BOSU push-ups
placement sit-ups with 14lb medicine ball
General Stretching
Finished with 5 mins on the stairmill which would have been 10 but I was just plain tired, so I decided to throw in the towel for the day.
Some random guy came up to me to ask me about my OH back squats. For a lot of people, flexibility in that area is limited. MT had said that he has issues with that as well and to take a broomstick or dowel and practice rolling it front and back as much as you can. I tend to have flexibility in that area so I think that gives me an advantage. He said he was impressed and how do I do it? I told him that I lock my arms out. I am sure it didn't help him much but that's all the help I could offer. Any of you out there have issues with flexibility in that area?
So, what fitness activity did you today?