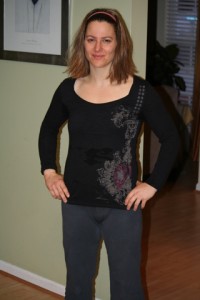 Today it was cold…like sub 20 degrees cold.  I got up at my usual 5a, got my stuff together, got all bundled up and headed to Gold's Gym. I miss my Plumbline training and the 545a ladies but it is a nice change of pace from heavy lifting and pushing my muscles to the max. Although I have to tell you – for doing my own training this week, I am sore. My arms are killing me and I did a bunch of squats yesterday, so my thighs hurt as well. So I know I have pushed some this week albeit  not as much as boot camp.
I got on the treadmill and did 5k although I have to admit, I was slower than usual. I did try to focus on doing intervals the last mile or so to see how my body responds.
Then I headed into the weight room:
25lb lunges
arnold press 25lb
back squats 65lbs
bench jumps 50
bench steps 25
OH squats 40lbs
General stretching
Core:
BOSU Push-ups 30
My body is tired so I am happy that Friday is my rest day and its Xmas!
Merry Christmas Everyone!  Since we are a mixed religion family, we will be opening presents on Xmas and then will do a Jewish Xmas Dinner – Chinese food at a local restaurant.  It's one of those family traditions that my entire family looks forward too every year. My mom is headed down from NJ for the weekend and we are all excited to see her.
I am so thankful that this year we can celebrate with everyone in the Hoaglund House back in the game. I try very hard not to dwell on our experience the past year, but I took a look back at our blog from December 2008 – what a difference a year makes. Scotty had chemo Xmas Eve last year and was so out of commission. We are so blessed to be able to live the life we do and it's so important to take a moment and reflect and realize how far we have come!
I love this quote which I will share with you for today:
Decide carefully, exactly what you want in life, then work like mad to make sure you get it! – Hector Crawford

What about you? How are you staying active today to help combat all the holiday eating?