I got up early thanks to our neighbor's annoying car alarm going off. Not the greatest way to wake up on a Saturday. A bit later, I headed to Gold's Gym for my usual Saturday workout. The sun was shining today and it made me want spring to be here so bad.
I ran on the treadmill for 3.5 miles. I really focused on doing some intervals during the last .10 of every mile.
Then in the weight room – I did overhead squats using 55lbs, back squats using 55lbs, push press squats 25lb db, walking lunges 25lb db, bench jumps 50, 40 pushups (20 with my legs/feet on the bench and 20 with the BOSU), and 40lb db isolats pullups
I ended the workout with some general stretching and practiced some double under jump roping. I 'think' i did 1 or 2 but it went so fast, that I can't be sure.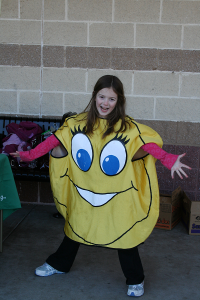 Then I came home to start my day. I had to take Hannah to sell Girl Scout cookies in front of the local grocery store. What an exhausting endeavor for us parents. The girls all want to help every customer, they all shout out the price, then scramble to get the money …. and it's constant reminding about everyone has their job to do… the girls do have fun though and it was nice to get to spend some time out in the fresh air. Temps were in in the 50s.
I am posting this video because we had a cookie costume for the girls to wear and whenever I see anyone wearing a costume I think of Justin Timberlake doing SNL — give it on up for homelessville…

Cup O' Soup – Watch a funny movie here
Just a normal weekend…