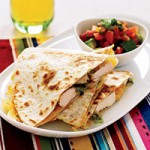 Steph's Chicken Quesadillas is a very popular dish at the Hoaglund house. Both my kids give it a thumbs up which is a very rare rating for them. I also like this because its quick, healthy and it's not complicated!
a bunch of chopped up cooked chicken breast – you can even use the frozen grilled chicken strips and reheat in the microwave if you are short on time!
chopped green onions
chopped up spinach
chopped fresh cilantro
Reduced-fat cheddar cheese or slices of reduced fat sharp cheddar
flour tortillas – you could use whole wheat or I have even used spinach and garlic tortillas but the color tends to throw the kids off.
Spray olive oil on your pan, put the tortilla in the pan, fill it with the items above, and fold over and cook on each side until the tortilla browns and the cheese is melted. Repeat for all the quesadillas you need. Cut them into small triangles and serve with salsa!
Here are some recent recipes I found that look pretty good!  Share some of your own healthy, family friendly recipes if you want! I would love to have more ideas…
Skinny Lasagna Ole' | Active.com.
This spectacular Mexican layered casserole is hearty and healthy. It's loaded with lean protein from the chicken, reduced-fat cottage cheese and fat-free refried beans. It's also perfect for those sensitive to wheat since we're using corn tortillas instead of lasagna noodles.
Chef Meg's Island Chicken with Pineapple Salsa.
Island Chicken with Pineapple Salsa, combines lean grilled chicken with sweet and tangy tropical fruits for a healthy dinner that will transport you away from the cold, gray winter.