So next Saturday my first 5k of the season is happening. Hard to believe we are only a few weeks behind the Blizzard of 2010. Time flies — hello where did February even go?? Anyone!?? Bueller?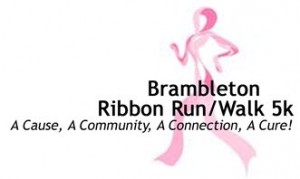 The race is the Brambleton Ribbon Run /Walk 5k – which is to help raise awareness and funds for the Step sisters. From their website:
The "Step Sisters" banded together to show the world just how important it is to put an end to the suffering caused by breast cancer. Everyone on this team has a reason for doing this event – whether they have a friend or relative currently battling the disease, have lost a loved one, or simply care deeply about this cause.

So it's a great way to give back and get exercise at the same time. And you don't even have to run the 5k. You can do the 1mile fun run. My husband and kids are going to do that while I run the 5k with my boot camp friends.   After the race there is going to be a free community shred, vendor sales, and some sidewalk sales from the shops in the area.  If you have never participated in a community race before, you should try to at least once. It really is a wonderful way to bring communities together and give back. The spirit in the air is contagious and you feel so pumped up after wards. I don't race to beat anyone – I just really like the feeling of running with other like minded people. It gives me a lot of strength and inspiration which then helps me stay on the path of healthy and fit living.  It helps fill my tank for another leg of my journey…
What kind of fitness goals are you going to pursue now that the weather is getting nicer?