Before I share some 'notable news' with you – I wanted to tell you a story about my Hannah & Scott. It is still making me laugh and I hope it translates well here…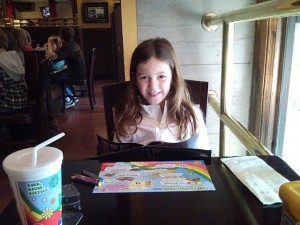 Hannah and I were on our way home from an errand and I had just said something about "daddy is such a dork". She immediately came to her dad's defense like she should and said no he's not – her frame of reference is that dorky kid in Wimpy Kid's Diary book – Freggly. Obviously that was not what I meant but…. So I said Hannah when you get home, I want you to ask Dad the following questions – and I went over 5 specific questions and if he answers Yes to all of them – he's pretty much a certified dork. Then I said and I am not saying that's bad – heck I married him!!
So we get home and she heads right up stairs. Poor Scotty – having no context for the questions – Hannah says Daddy – I have some questions I need answered:
Questions:
1 Do you like computers?
2 Do you play a lot of computer games?
3 Do you love Star Wars?
4 Do you read Science Fiction?
5 Do you like Space?
Answers:
1 yes
2 yes
3 hesitant yes
4 yes doesn't everyone?
5 yes everyone does!
So there you have it – A certified dork right there. Midway through question 3 he says – Mommy isn't nice! I love that man – and all of his "hobbies".
What about you? Do you know someone who would answer yes to 4-5 of the above questions? Is it YOU?