As much as I wanted to sleep in today – I had made plans to meet a co-worker/friend of mine James who started running 3 weeks ago. He is doing a 5k next week and has been running to get ready for it. We met on the W&OD trail. If you remember, I told my friends I would not run the trail alone anymore – so it worked out great for me. It was in the 30's so a bit chillier than I would have liked, but after a while – you don't even notice the chill.
I have not worked out since Thursday's hellish boot camp with those lunges. I am STILL recovering but figured running would help loosen my legs up. I tell ya, it was fine while I was running but as soon as I slowed down and tried to ramp up again – I felt the lunges once again. Will I ever be right again??! Isn't it great!! Livin fit and SORE, right?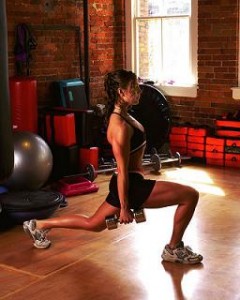 I found a cool site that will show you exactly what I am talking about with the walking lunges we did. All of us Plumbline campers are talking about the impact they had on us.
Have a great Sunday! Get out there and be active!!