Holy Cow am I sore! Yesterday's 'great' workout has left me very very sore! I am going to rest up so I can ready to resume Plumbline Training in the AM.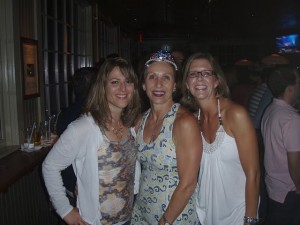 Friday night – we had a small happy hour to get some of the Plumbline Training ladies together to do a Happy Hour send off to one of our team  – Lidia. She is moving to North Carolina and happens to be a very special member of our group.  She's in awesome shape, super strong and one of the biggest cheerleaders of the group. Always supportive and encouraging – she will be missed in a big way.
She always pushes me when I work out with her and I love it.  I am not sure what we will do without our Queen B.  I have said this before – we have a really special group of Plumbline training ladies and losing one is noticed.