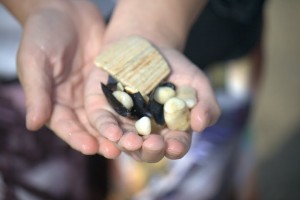 I woke up to a lot of fog. It was so foggy that I couldn't figure out where to turn — so it was good someone turned into the right street so I had someone to follow.  It usually takes me about 15 mins to drive to camp in the morning if I don't hit all the lights but if you add in fog or some other weather, it adds probably another 5 mins or so.
Mikey is switching it up daily during the month session – so you never know what workout you are going to be challenged with in the morning. What was happening was if there was a particularly challenging workout — especially if it included a long run — people wouldn't come, so now no one knows what workout it is going to be — and we are all surprised.
Warmup
rockette kicks
backwards lunges
bounding
back pedal
corex2
placement situps
hip elevators
full back extensions
25 bottom up push-ups
general stretching
workout
2mi run
15,12,9,6,3
behind the head shoulder press 65lbs
25lb kettle bell squats x2
inch worms
25lb db jack hammers x 2
Starting off a boot camp workout with a 2mi run just doesn't seem right – does it and on a Monday? That is just down right cruel but that's what a good workout is — grueling and some would say cruel. I got to the end of the 9 rep round which is quite a bit behind last week but I think we were given less time to finish today. I will take it never the less!