A great fall morning — crisp and chilly. I love working out in this weather — and I love the fact that all of us boot camp ladies leave sweating our pants off. That my friends is a sign of a great workout.  I love living in Northern Virginia in the fall — we have so many trees — for allergy sufferers not so good, but overall it's a gorgeous time of the year. The leaves change colors and it's so pretty.
I lived in Arizona for a long while in my early – mid 20's and although I loved it there — I really did miss the change of seasons. I find something very renewing about seasons — it's like you get to take a fresh look at the world around you at the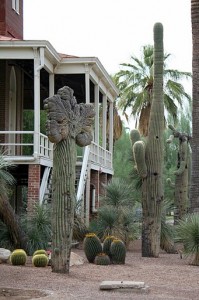 start of each one. Don't get me wrong — having 300 days of Arizona sunshine when you are in college doesn't suck either! Scott went back to Tucson, AZ last year around this time and took this shot of 'Old Main' at the University of Arizona –doesn't look like fall does it?
On to my boot camp workout for the day —
warmup
side shuffle
pushups
checkpoints
jump skips
corex2
partner ball tear drops – which I could not get coordinated for
partner crunches
general stretching
25 partner double high 5 push-ups
workout
15,12,9,6,3
SDHP 65lb
Ring Dips x2
Box crossover x 25lb KB
100m run/100m run w/ 45lb sandbag on shoulders
shoulder press jerk 25lb db
I finished in the under 30min time limit and feel great.