Lordy, Lordy I am 40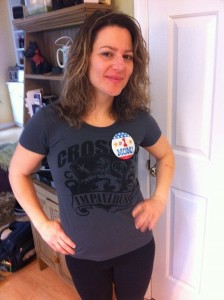 Yes its true. Today is my birthday — my fortieth birthday to be exact. When I was a kid 40 seemed so old — now that I am that age, doesn't really add up. I don't feel old and I have been told I don't look old — so overall if this is what 40 looks and feels like –i'm ok with it.  I truly believe that exercise, healthy eating, moderation, and happiness are all the ways to capture the fountain of youth. It's no secret — and if you don't believe me, look at older pics of me. I look younger today than I did a few years ago.
I woke up and headed for a birthday workout at Crossfit Impavidus. Nothing beats exercising as the best birthday present you can give yourself. I have put my body through a lot the past 40 years — it's only right to do something good for it on my birthday.
Warmup
2x
5 pull ups
5 OH squats
15 sit ups
8 push ups
Skill
KB Swings
Handstand Kicks/push ups
WOD
50 sit ups
40 35lb KB Swings
20 pull ups
20 Handstand Kicks
6:09m
I also got to take a nap. I love naps. I call being able to nap a gift. Scott is not a napper and I feel sorry for him. There's nothing like a good nap in the middle of the day —
It's been a good day.