The journey is the reward – Chinese Proverb
Today I am trying an evening class at Crossfit Impavidus to mix things up a bit so I slept in and will head there for the 730p class.
I haven't spoken much about our cancer journey lately – not because it doesn't continue to color everything we do, but more so because we are moving on – living our 'yes we had cancer' life. Moving on doesn't mean that there aren't times when the reality of what we have and are still going through doesn't come back at us like a Mac truck.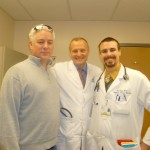 We had another post chemo appointment at Georgetown with Dr Marshall about 2 weeks ago. Even driving into DC brought us the feelings that we used to have every other week. Anxiety, sadness, fear along with the tears — things both of us had not felt in over 6m. Scotty doesn't like to deal with this now that we are post chemo, so we were a bit late in having this appointment.  He should have had a CT scan prior to it, but will be having it this week. Dr Marshall told him that he gets that he is purposely dragging his feet but with this type of cancer, we have to catch it early. We are 6m away from our 'remission' status and trust me — it can't come soon enough.  Just the mere fact that we could indeed find ourselves being told that the cancer is back — well I can't even describe the feelings that brings with it. Every appointment we are faced with that possibility –even if it's a remote one. Imagine living with that thought in your head — everyone who has 'beat' cancer does.
I started to tear up as we sat in the exam room waiting for the Fellow who examines us before we see Dr Marshall.  I just hadn't really expected to have the feelings so I was unprepared for the entire thing —  but we heard good news. He has no signs that the cancer is back. His blood work is fine and we will get the CT scan and be on our way for another 6m. This next 6m appointment will mark our "remission" card holder status and we aren't giving it back until we get the 5y 'Cured' one …
The reason I am talking about it today is bc cancer memories filled our heads last nite. 2 of Scott's High School classmates in Tucson were also diagnosed with colon cancer around the same time as us and Scott saw a FB posting that one of them passed away last night.  The guy was the same age, with kids the same age and you can't help but think about that being you.  What would your family's life be if that was you? Both of us saw it from different angles – me – thinking about our life, our kids growing up without their Dad, the love of my life not being here. Scott – what was the difference between him and his HS friend?  Well maybe it was caught early, maybe it was genetics — who knows.
Cancer is never far away from our lives and just because our treatment is over — physical and a lot of the psychological affects remain.