I have read about the benefits of coconut oil for a while & how some only cook with it instead of olive oil. I am not a huge fan of coconuts –never was one to like the Mounds or Almond Joy candy bars, don't like coconut flakes on anything, nor do I like coconut cream pie! Don't like Coconut — period! So I was hesitant to try anything with it as the main ingredient — but then I tried Coconut Water, then Coconut Milk, then Coconut Milk Dairy Treat/Ice Cream and they were all pretty darn good. A faint coconut flavor but not overpowering — dare I say it's pretty good!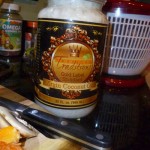 The nice folks at Tropical Traditions recently sent me a jar of Coconut Oil to try. I decided to pan grill up some chicken thighs with veggies as my first experience!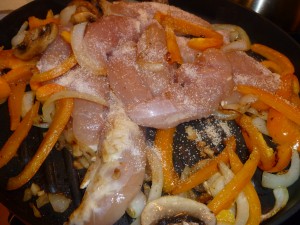 I added a small spoon full to pre-heated grill pan, then added a bunch of veggies — yellow peppers, onions, mushrooms, garlic with some garlic salt. I let them saute a bit and then added the boneless chicken thighs. . The Coconut Oil adds a light flavor to the dish — and I gotta say – It was so delicious. Thumbs Up!
I made a similar version a few days later, but cooked chicken thighs in olive oil and another batch with the coconut oil. You are probably thinking that that was an odd thing to do — but I was making  a dish for the kids, and then another batch for a few day's worth to add to my lunch salads.  So my batch was in coconut oil.  I didn't mention it while I was cooking and Scotty had the overall kids meal and then unknowingly had some of the chicken cooked in coconut oil.  After dinner, he mentioned how delicious and better tasting the 2nd batch was! Thumbs Up from both of us!
Based on those 2 meals – I would heartily recommend giving Coconut Oil a try! I plan to use it regularly  thanks to Tropical Traditions!
So you are probably asking–
What exactly is Coconut Oil? Read some info from Tropical Traditions about how coconut oil is made and it's a pretty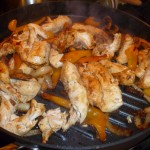 interesting process.
Why use Coconut Oil? It's not only good to cook with you can use it on your skin! There are so many benefits of Coconut Oil (it's a long list) –so be warned!
You can also bake with coconut oil — freecoconutrecipes.com has a good collection of recipes to get you started, including Gluten Free Chunky Monkey Muffins! With stuff like that to try — there is no excuse!
I'm going to try some other recommended recipes and uses and will share those experiences as they happen as a follow up!
If you have never tried Coconut Oil, give it a try and let me know what you think —
For those that have, share your favorite recipe!
Thanks to Tropical Traditions for sending me a jar to try. Even though I received it for Free, there was no expectation on their part to influence my review. My opinions here are my own  – I am now a fan of Coconut Oil.