Scott & I had an unexpected date night last night when our neighbor babysitter said Hey I can sit tonite if you want — so we went out to a steakhouse. I had grilled chicken and a sweet potato and —   I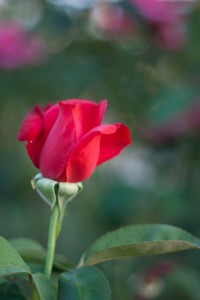 also had some of their fresh baked bread. Not sure what the heck is up with me. Seems every time I take a step forward – I take a step back. I know it's only bread — but I know that it is going to make me feel like crap. Why do  something if you know it will make you feel crappy? Who knows how the mind works — it seemed worth it at the time.  And sure enough – I didn't sleep well at all, I had some odd dreams and my stomach was a bit upset when I woke up this morning.  Let's see how the rest of the day goes —
My hands still hurt — from Saturday's pull up practice. In a way I am proud of them- it's a sign of hard work. I will conquer these kipping pull ups. The swing is down pat – now it's timing. And Timing is something that has had the upper hand on me for a very long time — so practice makes better!
Warmupx2
50 single jump rope
10 Pass Thrus
10 Good Mornings
10 Head Rotations
10 Hip Rotations
10 Cherry Pickers
Skill
Front Squat
Push Press
WOD
20m AMRAP
7 65lb Thrusters
15 L Sit Pull ups
total: 7+ (i was halfway into the pull ups)
Notice the warm up — lots of hip and shoulder/head stretching. Those all are to prep for the WOD. There was only 1 guy today who could do the L Sit Pull up. It's basically a dead hang p/up but you pike your lower half. Let's make a dead hang even harder. I used a blue assistance band and was able to do them with the chin up grip. This was a super long WOD today — halfway through I was like man, we still have 10 mins!!!
As Coach Conan said to me one day – I know you love it when I hear you complain! I love that he 'gets' me!