Happy Birthday U.S.A.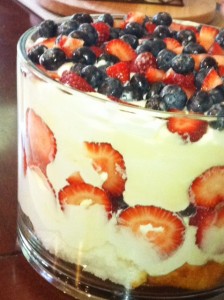 I made my fruit trifle for the holiday occasion and once again it was a hit!  Although it does have angel food cake in it —  you can easily make it with just the pudding and fruit and it will be just as good —
We headed over to our dear friends – Jim  & Holly's – for their annual neighborhood 4th of July parade and pool party to hang out, laugh, swim and eat good food. It was almost 3 years ago during this same time that we found out Scott had colon cancer. Holly and Jim have been wonderful friends to us. I can truly say they are like family to me.  I love this holiday; it's really a time to kick back and enjoy the time with your friends and family. Appreciate what you have and the freedom you enjoy.