CrossFit Games are about to begin —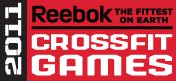 I'm excited because the CrossFit Games are starting this weekend and the CF world is all abuzz. The first individual WOD was announced yesterday — and it is totally in line with what I said yesterday about being ready for anything. The athletes have to do a 210m Ocean Swim to start it off. Now I am going to take a guess and say that many of the athletes competing today are not used to swimming in the open water.  But — you have to be ready for anything and that sure is 'anything'. They also have to do a soft sand run — this sure sounds 'fun'.
Today's workout was a lesson in time management — a lesson that we needed to put some to use. I didn't get to finish my entire strength WOD today because I had to leave before I finished –which I hate to do. But to be honest, I should have taken a today as a rest day but I made a commitment to meet some of my pals there and I didn't want to let them down. That is also a great reason to workout with a group of people –you know they are expecting you and you don't want to hear crap from them.  And CrossFitters can dish out some crap!!
Warmup
800m run
10 Pull ups
10 Ring Dips
10 Pass thrus
10 OHS
10 Whirly Birds
SKill
Forward roll
Handstand Forward Roll
Push Press
Shoulder Press
Press Jerk
WOD
Shoulder press 1-1-1-1-1 reps
Push press 3-3-3-3-3 reps
Push Jerk 5-5-5-5-5 reps
SP: 53,63,73,83,83x
PP: 73,83,93,103,113x
PJ: 83,93