When I went to Blogher'11, I was lucky enough to attend a Gatorade event about young athletes, proper nutrition and how we, as parents, can help them 'Become' the great athletes they are destined to be.  During the event, I was also fortunate to meet Brandi Chastain .  For those of you too young to remember, Brandi Chastain is a professional American soccer player and is a former member of the United States women's national soccer team.  She is considered one of the great women soccer players in the USA . You may remember her from the famous sports bra-baring photo that appeared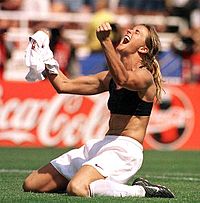 on all the major news magazines like Time and Newsweek after the US National Soccer Team's win at the 1999 Women's World Cup.
Brandi Chastain spoke at our event about leading by example.  "If you want your kids to be active, get active."  For those that follow me, this is a very big deal to me as well. I have seen way too many women lose themselves once they become a wife and mother.  It is never too late to start — learning a cartwheel at 40 was a very humbling experience but one that has become a highlight of my year!
I stopped and chatted with her after the event and found her to be very welcoming and interested in my story. I didn't get the sense she was 'just being nice' either. She inspired me even more to continue and push myself further —
Last week, Gatorade asked if I would be interested in helping get the word out about their BECOME pledge — and if the cause isn't enough reward, they have provided me with an autographed soccer ball from Brandi Chastain to give-away!!  How cool is that?
Pledge support to young athletes on their quest to BECOME. 

Gatorade is calling upon people to pledge their support to young athletes in their quest to BECOME.
Gatorade will donate one dollar up to $10,000 to the Women's Sports Foundation for every pledge received at www.Gatorade.com/moms (just click "take the pledge now" on the main Gatorade Moms page).
All you have to do is read the pledge, click to commit and Gatorade will donate a dollar in support of girls' and women's sports. That's it – click commit and they donate $$ for a very worthy cause.
The donation will help ensure there are opportunities for all youth who want to get physically active, get involved in competitive athletics and get in the game.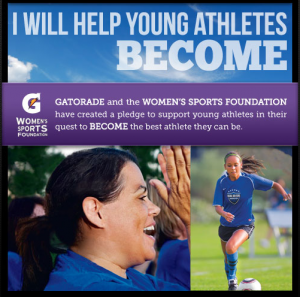 Giveaway details:
1 lucky Live Fit and Sore! reader will win an autographed soccer ball from Brandi Chastain.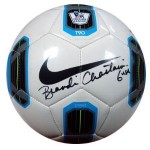 Here's how to enter:
Visit www.Gatorade.com/moms, click "take the pledge now", fill out the form and take the pledge.
~ Leave a comment on this post letting me know you took the pledge.
~ One extra entry if you tweet about this blog post using @livestrongnsore & #become. (Please leave me a comment letting me know you did.)
~ One extra entry for blogging about this. Please leave me a comment with a link to your blog post.
~ Make sure you include your name and email address in your comment. Comments without name/emails will be deleted.
~ Giveaway is open to U.S residents only
~ Giveaway will end Friday, September 23, 2011at 11:59pm ET.
~I will be using an online randomizer to choose the winner.
Related Posts