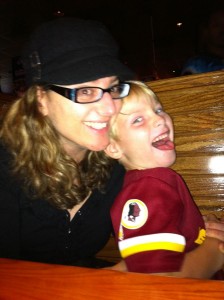 Good Morning People! It is indeed Columbus Day and I am not off from my job. My husband and kids are still snug in their beds so it was quite the bummer to come home after my workout and not have hot coffee waiting for me. Life is about adjustments people!
After Saturday's brutal workout, I took it easy yesterday. I think I was dehydrated and it knocked me down. I slept and drank a ton of water and didn't push extra hard today during the workout. I know when my body is trying to tell me to take it easy — if you don't listen, it will tell you louder each time.
Last night, we went to Glory Days Grill in Ashburn. We had recently got a flier that said they carry a gluten free menu! What I liked about this menu was it was a complete menu with modifications to the food they carry on the real menu. So Nate and I had some choices — I had salad with grilled chicken, oil & vinegar on the side.  My only complaint, the chicken was scarce. If you lined it up, it was maybe half a chicken breast! I eat more than that!!
When I stepped out this morning, it was chilly but not cold. When I left CrossFit, the sky was the most amazing color pink. You really do miss a lot by sleeping in —
Warmup
25 Double Unders
10 Squats
10 Push Ups
10 Pass thrus
—
mobility
skill
thrusters
WOD
21-18-15
Thrusters
400m Run
Because I am so sore, I opted to do 53lbs Thrusters instead of 65lb as Rx'd. On paper, this workout doesn't look like it should whoop your ass, but it does. If I could, i would climb back into bed.