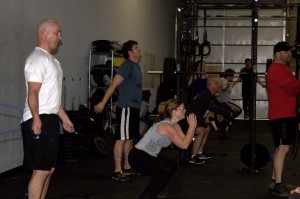 There is alot of discussion in the CF community around pull ups- continually allowing kipping pull ups instead of forcing athletes to do dead hang pull ups does the athlete a dis-service because they aren't getting stronger, just more efficient. If you can do 100 kipping pull ups but not 1 dead hang pull up are you really better off? I see their point — in the end strength training has a bigger pay off so you want to go with it. I do believe each technique has it's place — there are times when you want to be more efficient but you should when you can focus on getting stronger. It benefits all aspects of your training.
So today's workout only allowed dead hang pull ups – even if that means you use a band to help offset the weight. I did one dead hang – then switched to the band and proceeded to smack my privates with as I lost my footing and it snapped in between my legs. I am glad everyone got a good laugh this morning as I squealed in pain.
warmup
doms
x2–
40 single jump ropes
10 push ups
10 situps
10 wall ball shot
10 kte
10 med ball good mornings
Skill
Thruster
WOD
1-2-3-4-5-5-4-3-2-1 reps of:
Thruster 65lbs
Dead Hang Pull Up
Time – 8.54
We focused on good form over speed —  which is good because i am sore!