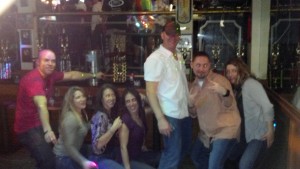 Oh I really have to stop going out — this CrossFit community are causing me to believe I am still young and capable of handing late nights out regularly.
Here's to refocusing on healthy eating, sleeping and fitness!
Today, I headed to CFI for a special session that was focused on core work in the form of Gymnastics! I love Gymnastics only because it was something that I was never good at growing up and now — It's a discipline that i will not let conquer me. Practice makes better!
Warmup
3x–
2 forward rolls
2 cartwheels
5 Handstand Holds
Skill
muscle ups
WOD
10m AMRAP
5 Inverted Handstands
6 Parallette L Holds
12 Double Unders
total: 5 rounds
Yeah – it was fun!