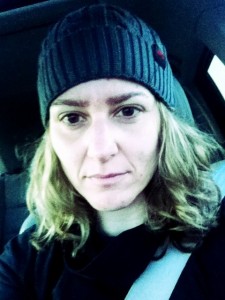 It's Friday and it's my birthday weekend. Hard to believe it's February already and my birthday is here again.  And tomorrow it's World Cancer Day — What a great way to kick off the weekend.
World Cancer Day is this Saturday, 4 February 2012. It is the occassion to unite the world in the fight against the disease through raising awareness, educating the public, and lobbying for change. 
It is only by every person, organisation, and government, individually doing their part, that the world will be able to reduce the global cancer burden.
So get involved and do something this World Cancer Day – because Together it is possible! 
In light of what's going on with Susan G. Komen Foundation  – if you are looking for another non-profit to support that helps breast cancer patients and cancer patients around the world, consider the American Cancer Society.  They do great work for support and research and deserve lots of support from all of us!
Do I look tired in this pic or what — I took it after my CrossFit workout. Mary, one of the mean bad girls of CrossFit reared her head this morning and holy crap – she is a force to be reckon'd with.  I mean who invented pistols aka a one legged squat?  Squats are tough enough, now let's be evil and make em do it with one leg. Jeesh.  Thank goodness for scaling -balance, coordination and strength all wrapped into one seems to challenge me every time – but practice makes better!
Warmup
General Stretching
3x—
25 DUs
10 Squats
10 Push Ups
10 ?? (I can't remember for the life of me!)
Skill
Pistols (one leg squats)
Handstands
WOD
Mary
20m AMRAP
5 HSPU
10 Pistols
15 Pull Ups
Total: 10
Today's workout felt great. My kipping is coming along and boy it makes a difference when you are doing long workouts with lots of pull ups. It's night and day and it's so energizing to me. Every time I get the right momentum, inside I get all giddy. I so, so, so  needed some progress to reignite me and there it is. Now — on to the rest of my day so I can get ready for my big birthday celebration tomorrow with the CF girls of CrossFit Impavidus. Watch out World — Don't say I didn't warn you.