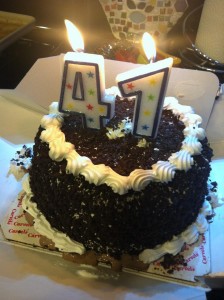 Another birthday came and went — I can't complain about anything. I have a great life hands down – great people around me, fun times and good health.  My family is healthy, my siblings are living good lives, my parents are still parenting.  I am so thankful for everything —
Today's workout was an odd mix – Double Unders and then Deadlift and Lateral burpees.
Warmup
dynamic stretching
2x–
10 push ups
10 pull ups
10 Squats
10 ?? (i have an issue remembering the warmup exercises lately)
Then we did some Gymnastics!
handstands (shifting weight)
Handstand walks with spotter
Skill
Deadlift
WOD
3min max Double Unders
Death by …
deadlift/lateral burpees
total: 35 DUs
145# – round 7 
I struggled through the DUs but managed to string a few along the more tired I got.  After the partying and eating this weekend – I was glad it wasn't a full on endurance workout. I think I may have hurled if that was the case.
And now, I'm done with the fitness portion of my day. On with the workout —