A Return to Running Shoes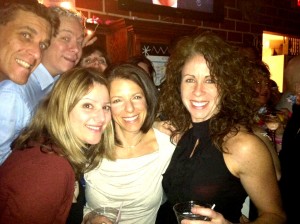 Super fun night last night for a great cause. A bunch of the CrossFit Impavidus crew came out and we laughed, danced and a few, drank. I had one drink — and let it rest.
Yesterday, I did do the 12.2 workout but stuck with the 30 reps to get me a score. It's not worth me feeling like crap for this competition so I am going to do what I feel is in my best interests. So, 30 reps with a 45lb bar of Snatches. Done!
Today, I went for a run with Scotty. 2.5 miles to help him prep for his first 5K. It was cold and windy but we bundled up and did it. It felt great to run. I haven't run solidly in a while. I even grabbed my real running shoes instead of my minimalist ones and you know what — it felt great. I don't care what people say, I think I am going to return to running in my running shoes…