I think these pictures are the way most women fear looking like if they lift weights. I am not saying that these women look good or bad — it's just not the ideal picture of what most women out there think they want to look like and for so many, they attribute lifting heavy weights/strength training with looking like this or bulking up.
Female Body Builders: Martin Schoeller Captures A Different Face Of Beauty (PHOTOS)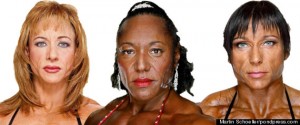 Toned, tanned and rippling with muscles, these body builders present a whole new face of female beauty.
The eye-catching gallery is a collection of some of the world's top female body builders, captured by photographer Martin Schoeller.
He said: "'I am trying to show the vulnerability that I see and feel in the subjects when I am with them, to get to the complex emotions behind a mask of extreme physical expression.
But let me share this picture with you From the CrossFit Games site of Camille LeBlanc. Does she look bulky to you?
Think 12.2 favored the bigger athlete?  Camille Leblanc-Bazinet hit 99 reps