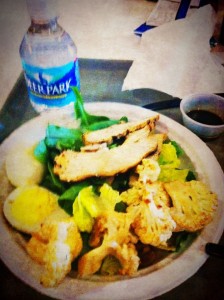 Because of the chest cold, I skipped 5 days in a ROW working out. Unheard of for me really! But I am now well rested and reset and ready for some progress!
Warmup
150 Single Jump Ropes/50 Dus
2x
10 Squats
5 Burpees
25Ft Walking Lunges
10 Pass Thrus
10 Good Mornings
Skill
Snatch
WOD
Power Snatch
12 sets of 3 reps
50% of 1RM  53#
30-60 sec rest between set
Buy in or Cash out:
5 x 45 sec plank holds or Hand Stand Holds
Did the super spicy Hand Stand Holds — Yowsa!