Today is shaping up to be a much better day than earlier this week! Life is about ebbs and flows, peaks and valleys — you know the drill. The turnaround started yesterday when a friend at work asked if I wanted to take a walk. The weather is beautiful right now in the DC area, so it was sunny, high eighties. This friend is the person at work you just love –infectious energy, always smiling, sees everyone in the best light, and has the sunniest disposition. He's alot like Scotty — the nicest guy you will ever meet.  As many of you know, I don't think anyone would consider my disposition sunny.  Honest, blunt, witty – yes. Sunny? I would say I have more of a Partly-Sunny disposition!
We were chatting in the hall and he said – do you have some time? Let's go for a walk.  So, i paused what I was doing and took him up on his offer. Turns out there is a path around the Corporate complex I have worked at for the past six years that I had no idea existed!!  He he told me if we had walked further, there is a pond. A FREAKIN' Pond! How did I not know this?  We had a great conversation, laughed a lot, commiserated on some shared experiences – it was seriously just what I needed to get my head straight.  I know he had no idea the week I had been having, because as shocking as it is, he's not one of my blog readers!  See how funny the universe is? It sends you what you need if you are open enough to see it….
Cirque du Soleil: Totem – at The Plateau at National Harbor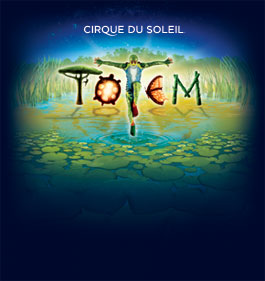 A week from Saturday, I am heading to the National Harbor to see Cirque du Soleil.  I was asked if I was interested in going to see the show and get a tour backstage by their touring company's press group. The show is called Totem – a fascinating journey into the evolution of mankind.   The show is in the DC area Aug 15 – Oct 7th. If you have never seen Cirque du Soleil you have to go. Scott and I first saw one of their shows in Las Vegas – Le Mystere before we were married. We have seen them many times since then and have seen their staged shows in Vegas and in Downtown Disney – La Nouba.
According to the website:
Written and directed by Robert Lepage, TOTEM traces the fascinating journey of the human species from its original amphibian state to its ultimate desire to fly. The characters evolve on a stage evoking a giant turtle, the symbol of origin for many ancient civilizations.
Inspired by many founding myths, TOTEM illustrates through a visual and acrobatic language, the evolutionary progress of species.  Somewhere between science and legend TOTEM explores the ties that bind Man to other species, his dreams and his infinite potential.
Cirque du Soleil started in 1984 with a group of 20 street performers. I'm not kidding when I say that the shows are like nothing you have seen — amazing displays of athletism, amazing music, and just seriously things that you can't even figure out. It's an explosion of sights and sounds in the most creative and innovative ways. They may call it a Cirque but it's nothing like a traditional circus!
You can see a  preview of the show or buy your tickets now!
*Disclaimer: I will be sharing information and a review of Cirque du Soleil's performance of Totem in exchange for complimentary tickets and a backstage tour.  My thoughts & opinions will be unbiased & honest as always.