Stand Up To Cancer (SU2C) – September 7th at 8p ET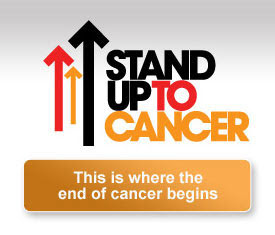 On September 7th, the entire group of A-list celebs are going to be together helping Stand Up to Cancer during the third SU2C primetime television fundraising special on Friday, Sept. 7 (8:00-9:00 PM ET /PT).
Gwyneth Paltrow, Julia Roberts, Matt Damon, Michael Douglas, Jessica Biel, Samuel L. Jackson, Jeremy Renner, Seth Rogen, Emma Stone, Taylor Swift, Coldplay, Alicia Keys, Tim McGraw and SU2C Co-Founder Katie Couric will all appear in the broadcast! Stars Taylor Swift,Coldplay, Alicia Keys and Tim McGraw will also be performing as a way to show their support.
Stand Up to Cancer continues to help build public support for groundbreaking translational research accelerating the delivery of new therapies to patients, getting them from the "bench to the bedside" as quickly as possible. SU2C brings together scientists from different disciplines across various institutions to collaborate.  Without collaboration, new cures can't be found!
Stand up to Cancer is a great organization, so please consider helping support their cause. Not because there are a bunch of celebs behind it, but because they do good work!
Stand Up to Cancer was founded in 2007 by a group of women, including Katie Couric, who had all been affected by cancer. Their hope was to enlist the media and entertainment industries in the fight against the disease.
Stand Up to Cancer will be broadcast live on Sept. 7 at 8 p.m. ET.
Event to Air Commercial-Free Simultaneously on ABC, CBS, FOX and NBC,
plus BIO, E!, ENCORE, HBO, HBO Latino, ION Television, LMN (Lifetime Movie Network), Logo, MLB Network, mun2, Palladia, SHOWTIME, Smithsonian Channel, STARZ, STYLE, TBS and VH1   8:00 PM ET AND PT / 7:00 PM CT
http://www.standup2cancer.org | facebook.com/su2c | Twitter: @SU2C |
Tune-in: http://youtu.be/7O_P_Fr4S1E