What If it Really Was The End?
No end of the world it seems — but have you thought about the What If of it all?
Are you living your best life?
Have you made amends with anyone that is not in your life anymore but you miss them?
Are you living life with good intentions?
Are you HAPPY?
There are probably a ton more questions you can ask yourself but simply If the world were to end tomorrow — you wouldn't want to die with a bunch of regrets would you?  Deep thoughts for a Friday morning I know.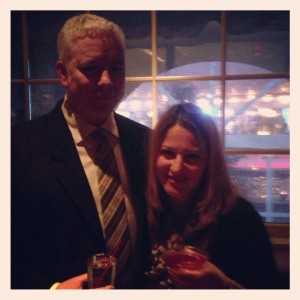 Scott and I attended his company holiday party last night. It was a nice event – they rented out a local restaurant Clydes at Willow Creek and had great food and drinks, a live band and just a really nice atmosphere.  It was also nice to see people that I haven't seen in years — I used to work at AOL too, so seeing people that I knew way back when was really fun and nostalgic.
And another benefit of CrossFit and living a healthy life to share: On two separate occasions yesterday, I was mistaken for someone much younger than I am. Our pediatrician didn't recognize me. Scott and I were there and she walked in and seriously looked confused. She looked at Scott then me and then just kind of froze. I said — um, Hi Dr. Lisa! And you could see the realization that it was me and started to apologize and explained that she didn't know who I was – she for a second thought maybe Scott had brought someone else to the appointment and then she thought that was odd –and the wheels in her head were turning. I was very flattered!
Then, at the party one of Scotty's co-workers stopped him and asked who he was with — and when he said that's my wife, she said she looks really young! Those are both Wins in my book. I told Scotty that he is now officially my old man!
On the way home from CrossFit this morning on the radio I heard the dj talk about things kids born in the last few years won't recognize. As I was listening to it, it made me realize once again how fast life goes and how quickly it changes. Technology has made it so that if you blink, you miss out on a whole trend!
Here's a recap of some of the stuff kids born in 2012 won't recognize:
Video Tape
Rotary Phones
Beepers
Movie Rental Stores
CDs
Camera Film
Encyclopedia sets
Long Distance Service
Modems
Dial Up Service
So mind blowing!
Fitness Report: 
Warmup
3rft
5 push ups
5 jumping squats
DROM
Skill

WOD
5 RFT

15 Deadlifts (135)
15 Toes to Bar
time: 12:40 RX.