This morning was one of the toughest workouts mentally for me that I have had in a very long time. We were doing some upper body agility ladders and I COULD NOT DO THEM. It totally highlighted one of the areas that I seem to have a mental block – the connection between my upper and lower body coordination.
This drill was the one that really challenged me —
It's not often that I am challenged to do something that really hangs me out to dry. I found myself getting angry and frustrated — it's good when you learn your weaknesses head on like that but it sucks too! The best part of this morning was how Coach Dan didn't just give up on me. He talked to me and dialed the movement back to stage one and had me work on that – instead of just standing around expecting me to just get it. One of my biggest issues is that I am a thinker –and when I get too deep in my head, I can't just let go.  He was explaining how our bodies are super efficient, beautiful things and if you just let it do what it does — you usually can get the job done. I was so busy thinking about the coordination I was going to need and which foot goes where and when — My body was at a standstill. It's amazing how things can work out when you look at a situation completely differently.
And you know what else can work out if you think of them differently? Everything. Before I left the gym this morning, Dan said "You need to stay positive Steph. Focus on progress and don't let whatever is going on bring you down."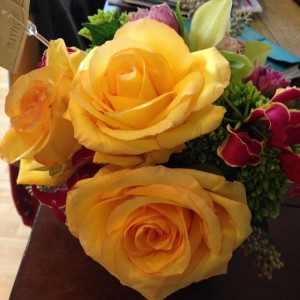 And yesterday, someone did something super kind for me. My friend Deanna sent me the most gorgeous bouquet of flowers to brighten my day.  It was a wonderful surprise and it really does help to know that there are a ton of great people in my corner each and every day.  I know being out of work is not the end of the world, but it sure can do a number on your stamina and outlook even when you know it it's for the best.
Do your homework before you sign up at your local CrossFit gym – they are not all the same and do not all have experienced coaching and smart programming available. Do not be a LEMMING!
"The point is, when you ask yourself, "Why am I doing this?," an intelligent coach will be able to give you an answer. If they cannot tell you why they program the way they do, then take your money elsewhere and find a coach who can."