The end of 2013 is almost here – boy what a year right? For me it was full of big changes – training at a new gym, getting laid off from a job I was ready to leave but couldn't pull the trigger myself, working on my weaknesses and discovering lots of new things about myself and the people around me. And for my family – we made it to the FIVE year mark in our cancer recovery which means that we can breathe just a little bit easier.
I think it's always a good idea to not only think about the things you want to focus on for the upcoming year, but also to take a moment to remember and recognize the moments in the year that's coming to an end. We learn from past experiences, successes and mistakes.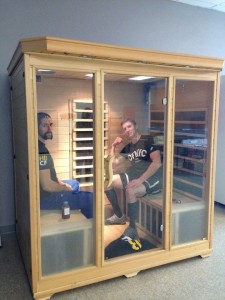 Highbar CrossFit recently put in a sauna. I am not normally a fan of anything super hot — hot tubs, steam rooms, saunas — all seem like breeding grounds for bacteria. But I tried it yesterday and afterwards – I wondered what benefits saunas offer.
Benefits of a Sauna
Stress Relief
Relaxes muscles and soothes pains and aches
Flushes out toxins
Help improves your skin
Can help improve sleep
Burns calories
So there you have it – there are definite benefits of sitting in a sauna 2x a week for up to 20 minutes. We shall see how it goes….
Kindness Matters
Workout
Strength: Clean max
WOD
a bunch of mobility
3 Rounds 
sit thrus
squat to ankle rolls
samson stretch
rotary swings
3 Rounds
30 sit ups
1min plank holds