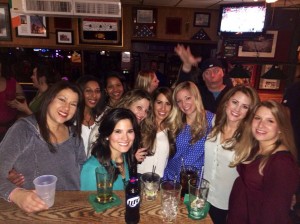 It's been a crazy weekend celebrating my birthday. I am still recovering and I definitely was reminded about why I am not a drinker. Yuck. I lost track of how much I drank on Saturday night and had to take most of yesterday to recover. I remember that it's not that fun to be so drunk that you don't remember things and you do things that are way out of your character. And it also reminded me how awesome my husband is — I love that man.
I do remember how many awesome people came out to celebrate with me — and how much love I have in my life. I am really very lucky to be able to know such amazing, fun, inspiring people. Here's to another amazing year of change, progress, love and health.
Read This!
So Cute!

Workout
Max push ups 25
Max Broad Jump 72′
WOD
10 rounds
DB Squat cleans + extra squat
Crab walks
Working out after this weekend was brutal. I am still dehydrated and will be focused on drinking as much water as possible today!
Get Inspired!