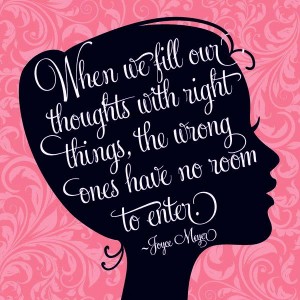 What I have discovered over the course of the past month or so and mixing up my fitness routine is I was/am burned out from strength and conditioning training. I think the one year mark tends to be the time when I start craving something different. With that in mind, I have decided to stop going to Highbar CrossFit and try some different classes and gyms in the area to see if any trip my trigger.
I've learned a lot at Highbar when it comes to strength and conditioning training. The hardest part of leaving is leaving the friends. They are the reason I am able to get my butt up in the AM and go workout.  But as I said, even that was not inspiring me enough to go and that's was how I knew for sure I was suffering from burn out.
The burnout was starting to seep into other aspects of my life — I've been feeling uninspired overall. What I realized is that my morning workouts were no longer fulfilling the need they once were and it was throwing off my day. This past week, it became clear what I craved was change. Not only change, but also more cardio – I am not going to lose the weight I have gained without adding some serious cardio in addition to switching up my diet.  I think my nagging shoulder issues were signaling to me that need to back off a bit from heavy lifting. I am still going to make sure I have some strength and conditioning in my weekly program, but not 5 times a week.
So, if you are keeping count – I have been a member at CrossFit Impavidus, Highbar CrossFit and have tried out Cycleluv in Leesburg, Flow Yoga, and Title Boxing. As a part of this exercise, I am going to write about the experiences in a future blog post, so everyone in the area can gain the benefit of my exploration.
And the other thing I need to work on is regaining my perspective. Perspective about working out and how my fitness goals fit in with my overall life. I tend to go all in — I have said it before, I don't half ass anything and as I have found out time and time again, not everyone gets that and/or approaches their life in the same way. When I start to get bogged down with anxiety and wrapped up in behaviors that steer me away from my goals, I am learning to step back, breathe and reset. Sometimes the process takes longer than it should but practice makes better!
This quote from Pat Sherwood is one of my favorites about fitness and CrossFit. It helps me reset my perspective and carry on…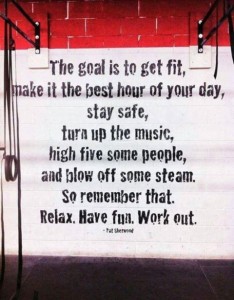 "The goal is to get fit, make it the best hour of your day, stay safe, turn up the music, high five some people, and blow off some steam.  So remember that.  Relax.  Have fun.  Work out."  –Pat Sherwood
Read This
Be Inspired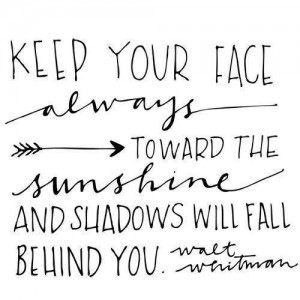 Kindness Matters
Police officer buys bed, TV, Wii for teen
KCTV5
Workout
Title Boxing : 5 MENTAL AND PHYSICAL BENEFITS OF BOXING