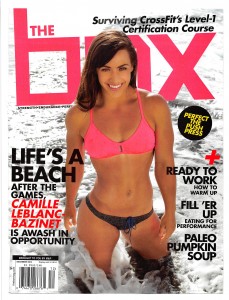 Let me take a minute to talk about the latest ramblings in the CrossFit community that relate to body image. Many folks are upset because The Box Magazine published an altered version of Camille LeBlanc Bazinet on their cover.  Since body image is already a very sensitive issue in this community to begin with, I believe it was poor judgement by the magazine's editors for photoshopping Camille. Does this magazine not know its audience??
And many folks are like who cares –if she is ok with it, then who are we to be upset?
I get that point but disagree with it because they are contributing to much bigger problem with body image and women. The community around CrossFit are some of the biggest proponents of changing body image misconceptions with showing real, strong women. So, to see this is just another example of how much work still needs to be done for the sake of the younger girl's growing up. They see enough altered images and I would just have expected higher standards from a magazine that caters to women who are breaking the stereotypes – that's all. The multitude of images that misrepresent women over and over and over again, contributes to a really f'd up  women's sense of self. It's disappointing to see them join the crowd.  I will show them my feelings by no longer supporting their magazine –as I have done with other mainstream mags as well and I encourage you to do that as well. I truly believe in being the change you wish to see in the world…
As a social media professional, their handling of the situation was so bad and added more fire to the fury: 5 Lessons to be Learned From the Camille Photo Controversy
In other matters…
I'm not sure it's the changing of the season, the weather or the settling in of my new routine, but I have begun to feel unsettled and antsy. There is nothing 'wrong' in my life, but I don't feel as if everything is 'right' either.  As I start to try to figure out what's going on,  it's also amazing to think about how much change has gone on in my life the past few years. Change in jobs, change in friendships and social circles, change in goals and perceptions. My kids and family have changed – Don't you wish sometimes that you can make time stop??!!  I know it's a lot of deep thinking for a Monday morning for sure…
I know that change in general should be welcomed with open arms – it makes it easier to deal with but sometimes, it hits me hard and I go down with a thud – no worries, I get back up again.
Here is some information about Seasonal Mood changes: 10 Tips For Getting Through Seasonal Depression
Read this
 Be Inspired

Workout
Friday Boxing
Saturday Boxing
Sunday Boxing