Burnout: A Break Can Re-inspire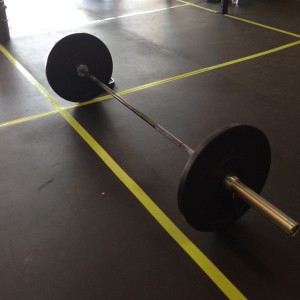 While I love boxing, I find that I am missing lifting big time. There is something about lifting a barbell that speaks to me. It's been almost seven months since I have lifted consistently and my shoulders have all but recovered. To help satisfy my lifting bug, I joined CrossFit Ashburn. I have decided that I am going to do both boxing and CrossFit. I think that doing 5x a week of either may be just more than my body can handle – so I am going to see how to fit in the best of both and maybe throw in some cycling and yoga in the mix as well.
The long break was good — I was burned out for sure and it was starting to feel like a chore to show up every day. Being fit is a lifestyle and you have to do stuff you enjoy with people you love being around. That's the real key to making it all work. When one of those is out of whack – well it doesn't work well.
Today's workout was a challenging chipper, but unlike the old me who would have pushed to do Rx- I lowered the weight and modified some of the Rx. I could absolutely tell I haven't lifted in a while and that's OK. I got through the chipper and felt like I got a good workout, which is what it's all about. Here's what it was…
Warm-up
2 Rounds:
Run 200 meters (20/14 med ball)
10 Med ball front squat
10 Med ball clean & split jerk
10 Med ball sit up
10 Wall ball
Metcon (Time)
30 Pull-ups
21 shoulder to overhead (115/75)
100 Double Unders
15 Pull-ups
15 shoulder to overhead (135/95)
50 Double Unders
5 Pull-ups
9 shoulder to overhead (155/115)
25 Double Unders
Be Inspired