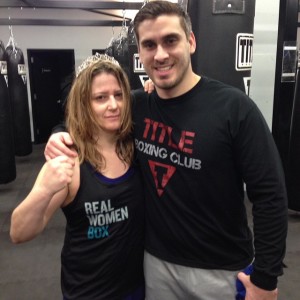 I was sincerely touched by all of the people in my life & social sphere (in person and online) that took time out of their day to wish me a Happy Birthday yesterday. I don't really grasp the reach and impact the stuff I share and the digital media work I do  – and it becomes clear on a day like yesterday.
I started my day off with some exercise. Each year I make sure to get a workout in on my big day —  to thank my own body for being so dependable. And to make it even more fun, my dear friend Maria bought me a tiara and a "real women box' tank to wear for the occasion.  And yes, I wore that tiara throughout the entire workout!
Then I headed into work – and went out for a steak dinner in the evening. Nothing extra fancy but a great day overall. My kids made me some spectacular gifts and Scotty was attentive as always.  When your life is good – what more can you ask for?
Read This
Laugh
Kindness Matters
Woman Walking Through Target Noticed Something Out of the Ordinary Going On. So She Took a Picture. ‪#‎kindnessmatters‬
Be Inspired