Fun Murderer of a Teenager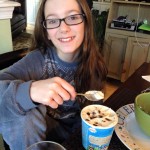 End of last month, my little baby girl became a teenager. It is hard to believe that 13 years have passed since I became Mom and had my priorities and perspective on life shift. What a crazy journey it has been. HB is becoming such an amazing young girl – so fearless and full of confidence. I love watching her –  and seeing how she evaluates situations and challenges herself constantly. She is so much bolder than I was at her age.
When HB was younger, she called me a Fun Murderer. In hereeyes, I was not fun in her eye whenever I told her she couldn't do something she wanted to do – for whatever reason – I was murdering fun. She doesn't say that much anymore – it has now turned into the infamous eye rolling any time I annoy her.  Her teenage years are bound to be full of moments of her parents embarrassing and annoying her.
Time flies for sure and I can't wait to see what the future holds for both of us.  I'm having the best time being her Mom.