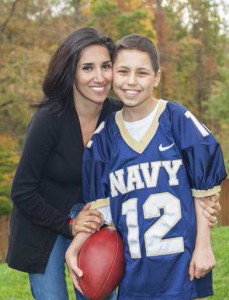 This past December, Mathias Giordano lost his cancer battle. Tomorrow he would have celebrated his 14th birthday. I have not been able to get him out of my thoughts since first hearing about him and what an amazing young man he was from my friend Gwen. Gwen and I, along with her son and HB ran the 5K this morning to remember him and raise money for childhood cancer research.
It was an amazing feeling to start my day with a 5K run to support Team Mathias in the Team Mathias 5K and Family Fun Run 2015y
I was so proud of HB. I thought she was going to back out of coming with me early this morning but no. She stayed true to her commitment and did great. This is now the second race we have done together. I can't even describe how much it fills my heart with so much love and pride that she is open to tackling the races with me.  I think one of the reasons that I continue to be moved by Mathias is my own kiddos are around the same age – and after seeing how hard Scott's cancer battle was, I can only imagine how much harder it is for those younger.  During the pre-race speeches, I teared up thinking about him and his family. What an amazing example of faith and perseverance.
Partnering with the Team Mathias was Be the Match®, a global leader in bone marrow transplantation. They conduct research to improve transplant outcomes provide support and resources for patients, and partner with a global network
My last 5K was in March for Scope it Out Colon Cancer Awareness and my 5K pace was 9:36. This race I finished with a 8:45 minute pace. So I'm pretty pleased with that improvement. Boxing and Cycling are really helping my overall lung capacity for sure.
Childhood Cancer Statistics – Important Facts
Each year, the parents of approximately 15,700 kids will hear the words "your child has cancer." Across all ages, ethnic groups and socio-economics, this disease remains the number one cause of death by disease in children. Despite major advances – from an overall survival rate of 10 percent just fifty years ago to nearly 90 percent today, for many rare cancers, the survival rate is much lower. Furthermore, the number of diagnosed cases annually has not declined in nearly 20 years.
Every day, 43 children are diagnosed with cancer.
12% of children diagnosed with cancer do not survive.
Children's cancer affects all ethnic, gender and socio-economic groups.
The average age of children diagnosed is six.
More than 40,000 children undergo treatment for cancer each year.
60% of children who survive cancer suffer late-effects, such as infertility, heart failure and secondary cancers.
There are approximately 375,000 adult survivors of children's cancer in the United States.

That equates to 1 in 530 adults ages 20-39.