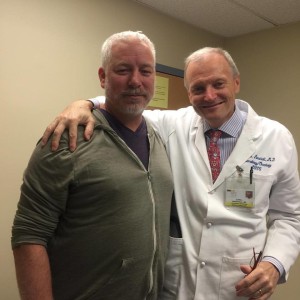 This morning we made the drive to the Lombardi Cancer Center like we did so many times during Scotty's colon cancer treatment. It was odd that today's appointment was on a Tuesday, because it was every other Tuesday for months after his surgery, that we settled in for all day chemo appointments.
The hospital is undergoing renovation, so it didn't look the same but the feelings came rushing back all the same.  When we wen to to check in, the lady asked "have we really not seen you since 2011?"  We smiled and headed towards the back to take a seat.
We didn't wait long before we were ushered into the exam room and a fellow, who is a doctor in a period of medical training after completing a specialty training, greeted us. Each time we went in for chemo, we experienced a different fellow before seeing Dr. Marshall.  Lombardi is a learning hospital so it's expected.
After a bunch of questions from Dr. Marshall – we were told to get out of there! We don't need to come back. Scott was advised to continue seeing his primary doc regularly and get his colonoscopies as recommended. He has one scheduled for December already!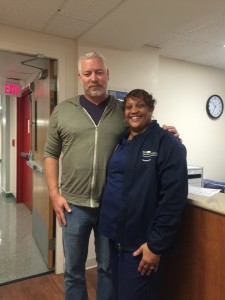 We hugged, took a SEVEN Year pic, and said our goodbyes. Before we left the hospital, we stopped by to surprise our amazing nurse, Mercedes, who helped us get through all of our chemo sessions years ago.  We found her at the front desk on the 5th floor and as she turned around, I could tell she didn't know who the heck I was. But, once she saw Scotty, it was all over. Seeing the huge smile on her face as she came rushing over to hug us both  warmed my heart. She asked about our kiddos, and as I showed her their first day of school pics, it occurred to me that she hadn't seen them since they were 4 and 6 years old. We do send a holiday card each year but other than that — time just goes by.
Scotty had his surgery August 2008 and we began his chemo seven years ago this month. So much has changed in our lives,  I wrote this paragraph Feb 2011 and it still holds true…
I haven't spoken much about our cancer journey lately – not because it doesn't continue to color everything we do, but more so because we are moving on – living our 'yes we had cancer' life. Moving on doesn't mean that there aren't times when the reality of what we have and are still going through doesn't come back at us like a Mac truck.
As we drove back home, we both let go of the breath we were holding…