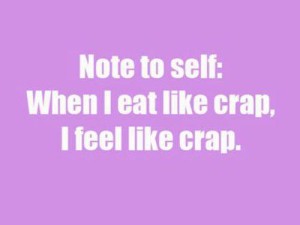 I've been struggling with my food choices the past few weeks and it has reminded me that when you eat like shit, you feel like shit.  I've been so locked up in my head – not feeling my best – and it has translated to purposely not acknowledging what I am putting in my mouth.  I am dealing with cystic acne on my face. I am a lot more fatigued and lose stamina during my workouts and not to mention the slow bloat (weight gain) I am seeing.
We have also gotten in the habit of ordering take out many times a week. Eating out all the time makes it hard to really know what you are eating and how it is made.  With both Scott and I working, and with the kids' schedule – we have been opting for convenience rather than health.
Last week, I started getting back on track.  I started paying attention again to what I am eating which is half the battle, and making conscious decisions. I also made plans to make dinner at least four times this week at home. I think it can only help the entire family in the end. Planning and preparation is really key to making it work.  It's not a new concept – there is no magic bullet and it seems to get harder as you get older.
I have a sweet tooth (SUGAR ADDICTION) and I crave it  — when I eat some, I want more and more. I am starting to consider doing a sugar detox – it's a big commitment and I want to go all in if I decide to do it. Maybe something for me to jump into in January…
Laugh
Let's all start the week with a laugh compliments of Saturday Night Live and Will Ferrell. This is a brilliant sketch full of wonderfully, subtle shots at the 2016 Republican candidates. Some of the things they are talking about downright frightening….