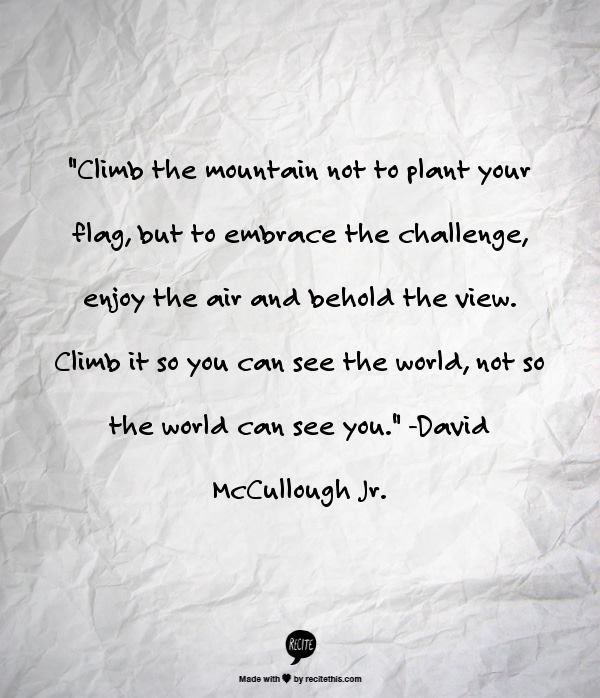 "Climb the mountain not to plant your flag, but to embrace the challenge, enjoy the air and behold the view. Climb it so you can see the world, not so the world can see you." ― David McCullough Jr.
I've been thinking about how much simpler life was when I was a kid. We didn't have the constant barrage of distractions and choices were limited. If we were sitting on a train or travelling somewhere, what did you do? You slept, talked to someone, played some sort of game or simply got lost in your own thoughts. Now, our choices are endless for almost everything. It has created some wonderful opportunities, but it also has a lot of disadvantages.
Someone recently asked me why I think the world seems angrier and less tolerant. You could argue that the world isn't any worse, we are just getting information from more sources so we are getting more of a full picture of whatever is going on. I don't know, but if people have always been this angry, that's pretty sad.
We are so connected that we don't stop and just take it all in. I traveled into DC this week for work and while my co-worker and I were walking to the Library of Congress, I was stopping to take it in. I mean – it's awesomely cool to walk around the monuments and recognize the history. I was snapping pics and just enjoying it even though it was cold and we were late to the meeting (through no fault of our own). I think it was annoying my co-worker, but you know what? People all over the world dream of seeing these buildings and being here. It was not going to kill us to take a few extra minutes to enjoy the view…
Watch This (and Laugh)