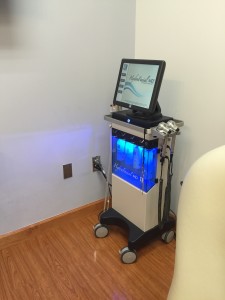 Last month, I was asked to visit NOVA Plastic Surgery to try out one of three treatments (I was given a choice) and share my visit and experience via social.  I firmly believe taking great care of your skin is an important part of living fit and sore. As we get older, we have to do more than just rely on good genes and youth. Getting regular facials and other treatments should be done regularly, not just as an occasional treat.
I also believe investing in good, high quality skincare products is important too. I currently use products by SkinMedica but have also used Skinceuticals (which is sold at NOVA Plastic Surgery) in the past and highly recommend either.
After researching and talking with the staff there, I opted for a hydrafacial.  I was considering doing the BBL facial which uses a laser, but after they looked at my skin and the lack of overall sun damage, they suggested going with the hydro facial. So, that's what I chose…
What is a HydraFacial?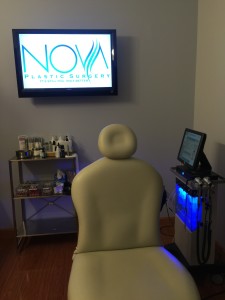 HydraFacial MD is a deep facial cleansing treatment that utilizes natural plant extracts, peptides, acids and earth minerals to deeply hydrate, nourish and energize the skin.
No part of the body is exposed to the elements as much as your face – UV rays, wind, smoke from cars, what we eat, make up, normal wear and tear – all fill your face and pores with toxins and debris. This can give you a dull tired look, making your skin sensitive to breakouts, blemishes and age spots.
The 20 minute HydraFacial MD treatment revitalizes your skin by cleansing, exfoliating, extracting impurities, and restoring essential nutrients.
My Thoughts
The treatment took about 30 mins and other than some slight stinging from some of the products, it was painless and fairly relaxing.  During the treatment, the esthetician was very good about explaining to me what each product was and its benefits and making sure I was not in any pain.
I took a before and after pic (shown below) and what you should notice is how refreshed and dewy my skin looks after the treatment. It's been a few days now, and my skin is slightly peeling  (which is expected) and has kept the glowing and refreshed look. My skin feels softer and I have been complimented many times on how great my skin looks.  I asked how often people go get one of these facials and was told many clients get it on a monthly basis. I can definitely understand why — it really does refresh your skin and you leave feeling relaxed -which was an unexpected bonus.
I recommend giving it a try if you have been wanting a facial that cleans deeply and revitalizes your skin.  The staff at Nova Plastic Surgery could not have been friendlier and nicer as well. They took the time to talk with me about my skin and evaluate which treatment to go with and I was never made uncomfortable.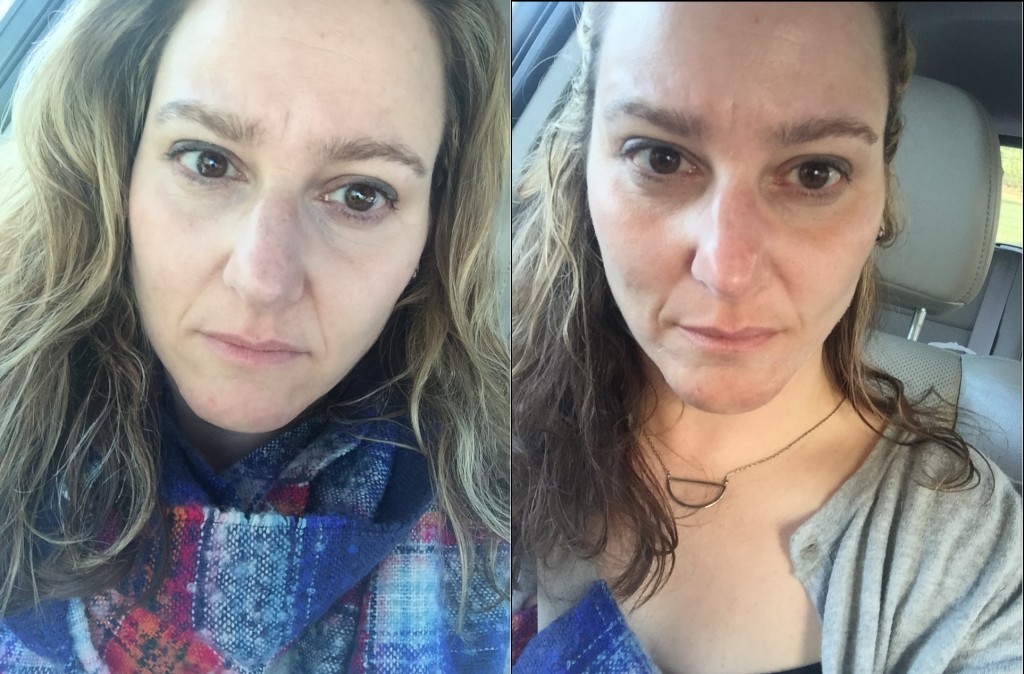 Thanks to NOVA Plastic Surgery for inviting me in to try the Hydrafacial treatment. Although I did not pay for the treatment, there was no expectation on their part to influence my review. My opinions here are my own and I would recommend the treatment and NOVA Plastic Surgery.