September is Childhood Cancer Awareness Month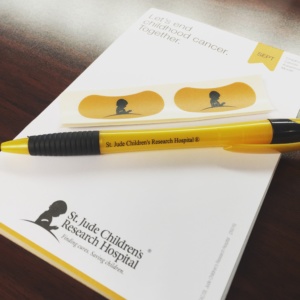 I'm still processing the St. Jude Blogger Tour. It was a heavy topic but I came back feeling hopeful, inspired & grateful. My new blogger friend Melissa Fenton talked about  "turning guilt into gratitude" as we head back to our families and look at our healthy kids. Be grateful that we have healthy kids that can live their normal lives. I am taking that to heart and will do my part to end childhood cancer. I am even more forever changed..
I will share my entire experience in the next week — as it was full of information, emotions, fun and hope and what being a St Jude Ambassador Blogger means –including all the programs and ways people can get involved.
Childhood Cancer Awareness Month
Next month is Childhood Cancer Awareness Month and there are a ton of ways to help, including a walk/run in many cities around the country. To search for an event in your community use this link: Find an event near you or Donate.