boxing
0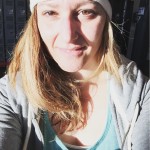 There does not seem to be enough hours in the day lately to get it all done. My new job has me so busy and now that spring has sprung – there is so much to get done. I'm not alone in that feeling I am sure – we are all running at a thousand miles a minute now a days it's hard to quiet your mind and slow down sometimes. I think that's one of the reasons I workout – to have some time to really focus on how I feel physically. A few friends of mine recently made some comments about how I am always working out — well, first that's not true. I work out regularly for about an hour five times a week. That leaves a whole lot of other hours during the week when I am not working out. However, after the years of doing this – it's almost like an addiction. I crave a good workout for mental and physical reasons. I feel better when I move my body. Who doesn't? Well according to a new study and the Wall Street Journal, a ton of people out there don't exercise regularly – 1 in 4 Americans to be exact…
"We are deep in a national crisis. We're not sweating enough. We're running away from sports. We're fleeing from fitness.
The other day, the Journal's Sara Germano reported on a mind-numbing survey from the Physical Activity Council which found…well, it basically found that 1 in 4 Americans didn't exercise at all in the past year.
One in four. For a year. Yikes."
It is a crisis – just look around suburban America. How many people around you are living less than healthy lives? We are all busy. We are all tired. We are all pushed and pulled in so many directions – but your health should be non-negotiable and top of the list of importance. Not only for you, but for the example you are setting for your children. They learn from what you say and do. You don't have to be an Olympic athlete, just MOVE YOUR BODY! Go for a walk, stretch, do sprints – whatever. Do it and continue – it's a long term journey with peaks and valleys.
It's not easy I know- but have you seen people living with chronic illness or immobility? That's not easy either. Which hard would you rather have in your life?
Be Inspired
What you believe has more power than what you dream or wish or hope for. You become what you believe.
Read This