career
0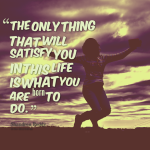 The past week, I had the wonderful fortune of being in the presence of two of the few people out there who were born to do what they are doing.  You know those people who from a young age seem to be destined for their purpose. It's as natural as breathing to them..
Last Tues, I took HB to go see the amazing Ed Sheeran at Verizon Center.  It was just him on stage – with a looping machine. He recorded his own loops while playing and then played over them. He is a true artist. His voice was so crisp and pure. I thought he sounded better live than on his records. His solo show lasted over two hours – and there was not a moment where the sold out audience was not entertained, included and captured.  He was born to write and sing songs – no question.  To drive home that point, at the beginning of his show, he played videos on the big screen that captured the blooming of his talent throughout his young life, including when he was probably in kindergarten.
Yesterday, I was in awe and inspired as I sat with Diana Gabaldon, author of the best-selling series, Outlander at a small, invitation only lunch hosted by the non-profit, Fall for the Book. Ms. Gabaldon was in town to receive the Mason Award at George Mason in Fairfax.  For those that don't know, I love the book and TV series Outlander. To me, Outlander is an escape novel, where you get truly lost in the story and want to reread it over and over again because don't want the the journey it takes you on to end.
What became clear to me within the first few minutes of our lunch was that Diana was born to write and create these fantastic stories that capture people's heart. She has been writing since she was in grade school, doesn't use notes to keep track of her characters, doesn't create drafts and does all the research herself to ensure she accurately capture the time period of her novels.  She began writing Outlander for herself –no intention of selling it. She didn't tell anyone she was writing it and just let the characters take her where they needed to go.  Writing is as natural as breathing to her. Listening to her explain how she writes and creates was fascinating.
What am I meant to do?
It appears to me that Ed Sheeran and Diana Gabaldon were born to do what they are doing — it may or may not have not been a clear, easy going journey to get where they are but there is no question in my mind that they were going to get there.  Both have passion and talent that you can feel just being in the same room with them. Not to host a pity party, but I can't for the life of me figure out what I was born to do.   I suspect there are more people out there like me and I struggle each and every day with that question.  I just know there are bigger things to come for me but how, where, why, who??  
[WRG id=11184]