Health/Nutrition
0

I'm not someone who pushes health and wellness products without ensuring they fit within my health and wellness perspective and if I personally used or tried it.  So, I was pleasantly surprised when BODYARMOR Sports Drink reached out asking if I would consider sharing information about their BODYARMOR LYTE Sports Drink and SportWater. I have used BODYARMOR Sport Drink products! And while many so called "sports drinks" are just as bad for you as drinking regular soda, BODYARMOR is different (in a good way).
First off – let me make myself clear about a few things…
Sports drinks, including BODYARMOR, contain sugar or some type of sweetener. But not all sweeteners are created equal.
Sugar is not the enemy- BUT you need to ensure that you not taking in too much sugar and getting it from the right sources.
Not everyone needs to or should be drinking hydration sports drinks on a regular basis.
Sports drinks are flavored beverages that contain carbs (usually sugar) and minerals such as sodium and potassium. Those minerals are generally referred to as electrolytes. And while many active people drink sports drinks to restore their electrolytes after each workout, they can do a lot more harm by drinking traditional high calorie, chemical laden sports drinks.
BODYARMOR Sports Drinks are different…
In their own words…
"BODYARMOR has more electrolytes, higher in vitamins and potassium, lower in sodium, contains coconut water, naturally sweetened with pure cane sugar, natural flavors and no colors from artificial sources. Other sports drinks are high in sodium, low in potassium, have artificial flavors and colors with little to no nutrients."
BODYARMOR LYTE 
No artificial colors
No artificial sweeteners! (sweetened with cane sugar, stevia and erythritol)*
Tastes pretty darn good
Natural Flavors
Coconut Water
High in Potassium and low in Sodium**
20 calories per serving
*Yes, It does contain sugar/sweetener. As I mentioned earlier, if you pay attention to your overall daily carb/sugar intake, it's not necessarily an evil thing. The amount you consume and the sources you are getting it from are key factors.
**"Potassium plays an important role in the hydration process by preventing cramping. Most traditional sports drinks use sodium as their key electrolyte. Too much sodium can cause high blood pressure and potassium helps to lower blood pressure"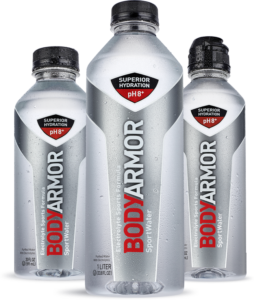 Personally, I love that they incorporated coconut water and with the new LYTE product,  they now offer a low calorie option. My favorite flavor if you are wondering is Blueberry Pomegranate, but they also offer Cherry Berry, Peach Mango, Orange Citrus.
This year they also introduced BODYARMOR SportWater, designed by and for athletes. I haven't personally tried it yet, but will share my thoughts once I do.
According to their website, it has zero calories, a performance pH of 8+*  and has a wide mouth bottle – which is always a plus!
*pH is a measure of how acidic/basic water is. The range goes from 0 – 14, with 7 being neutral. The more acidic the water is, the more it can contribute to inflammation within your body, which then contributes to disease and illness. Alkaline water (above 7) can help neutralize acid in your body. Which is a good thing!
So, while not every one needs to drink sports drinks to hydrate and/or rehydrate, they can definitely help with training and recovery for those that do. And for those who have experienced that dizzy, shaky feeling during their workout that comes with low blood sugar levels, a sports drink like BODYARMOR can definitely help!
BODYARMOR Sports Drink is available as single drinks or in 6-packs at several retail locations across the U.S. including Kroger, Stop & Shop, Wegman's, King Kullen, Food Town and ShopRite.
Disclosure: This post is brought to you by BODYARMOR. However all thoughts and opinions expressed are my own and not influenced by the brand or company.