body image
0
Where have I been? What's been going on? I wish I could share some exciting details or news, but the truth is I have been lacking inspiration and motivation the past few weeks. Maybe it's the election results, or the change of seasons- whatever it is, it's been affecting me big time.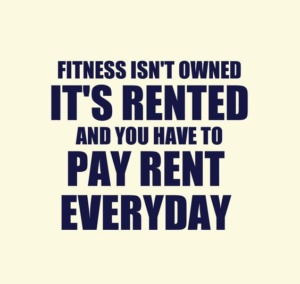 Now that the holiday season is here, most of us will be out socializing a lot more than usual. I get invited to a ton of Holiday Parties and Happy Hours in December and if I'm not careful, I start to slip back into old eating habits. I'm sure I'm not alone.  Last week, during one of my Body By Wayne training sessions, I was bitching about how hard the workout was (something I do regularly). I asked Wayne why it's so hard to stay lean and healthy. How come there isn't a pill I can take to keep this way? I workout all the damn time –hard workouts, that challenge me in many different ways, but yet each time I go, it's a mental and physical challenge once again.  It's not freakin' fair, but the truth is — Fitness is rented. You have to pay that rent each and every day. And if it's important to you, then you will do it.
What keeps me motivated to stay fit?
Here's some insight into how I think…
I have seen far too many older people become immobile and unable to take care of their most basic needs without help. For some, it wasn't something under their control, but for the vast majority – if they moved their bodies and paid a bit more attention to their overall health when they were younger, they wouldn't be that way.  When I start to lament about having to workout, I remember this.
When Scotty was sick with colon cancer, we spent every other Tues at Georgetown Hospital getting his chemo. I saw and met a lot of very sick people. Exercising is one of the best ways to prevent many cancers — and it's an hour of of my day.  One friggin hour! And if you can't do a full workout – then just go for a walk. MOVE YOUR BODY. I remember our time getting Scotty well and the people I met. 
I live in the suburbs and I am seeing more and more, people my age ignoring their health. We are at the cusp of "no, we aren't old" and "no, we aren't young" and so many of take little time to take care of ourselves. We know how important it is – but tend to get wrapped up in everything else. I remind myself how important it is to take time for myself to take care of myself. Not only for my own well-being, but as a good role model for my kids.
After thinking about those three important things, how can I really not go and workout? Those aren't trivial reasons and I have no real excuse to skip. Not to mention that I love the feeling I have after a good workout and the great people I have met through my fitness journey. Hopefully, the insight I shared will help motivate you to stop waiting and begin…
Read This
Be Inspired