Aftershokz
0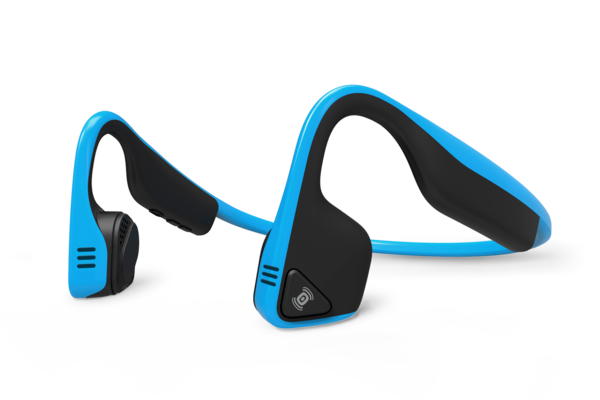 My brother recently told me about these cool headphones that use bone conduction to transmit the sound, sending the vibrations straight into the top of your jaw and from there to your inner ear and brain. The company, Aftershokz, originally started making bone conduction headphones for the military and now they are offering them to the public. After hearing how much my brother loved them, I went to the website, checked them out and ordered the Trekz Titanium Wireless model. Here's what the website has to say about this particular model…
"The lightweight and comfortable Trekz Titanium wireless stereo headphones are the safest alternative to traditional sport headphones and earbuds. Bone conduction technology, an open ear design and a suite of convenient features deliver premium music play and crystal clear calling without compromise. Designed with athletes in mind, Trekz Titanium are sweatproof, secure, and will allow you to hear your surroundings – no matter where life takes you."
They arrived late last week and so far, I am loving them.  They don't have crystal clear sound quality (you compete with outside noise after all)– and that's ok with me. I love that I can wear them comfortably and still hear things around me. And they are comfortable. I have found that after a while with regular headphones that go in your ear, i have to move them around because they become uncomfortable. These fit nicely on the outside of the ear, and I haven't really needed to readjust them that much as I move around. They are bluetooth and rechargeable. So far, I have gone 2-3 days without having to recharge them.
And you know what else? It uses cool new technology. THEY ARE COOL! 
Should You Try These Headphones?
If you run a lot outside with music and always leave one side of your headphones out so you can hear around you, these headphones are for you! Or the kind of active person who likes to hear what's going on around you in general, go for these! If you are a audiophile and into really super crystal clear sound or are the type of person who puts your headphones on and zones out from the world around you – these are probably not going to be the right headphones for you right now. With technology constantly improving, that could change… so, keep your eye on the space because who knows, the next iteration could address those issues.
By the way: I was not asked to share info on these headphones. I just ordered them independently and really like them.  I will revisit my thoughts about them in a month to follow up on how well they have performed.
Want even more info? Here's a good recap of these headphones from The Verge: Are bone conduction headphones good enough yet?