St Judes
0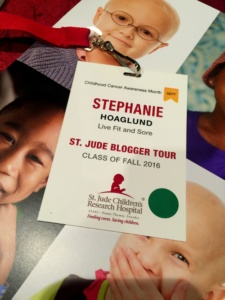 If you are a friend and/or a follower of this blog, you know I was invited to travel to Memphis, TN last week to learn about the St. Jude Children's Research Hospital. Because of my own personal experience with cancer,  this blog and my other social media outlets, they asked me to join 11 other bloggers from around the country to learn more about ts history, its mission and the possible ways we all can do our part to end childhood cancer (Adult and Childhood cancer!).  There is so much I want to share from my three day learning adventure.  This is the third year of their blogger tour and in total, they have about 70 bloggers nationwide helping spread the word through their amazing Blogger Ambassador Program.
Here are some high level, meaningful facts that resonated with me about St. Jude:
Families never pay. – If you are a patient at St. Jude Children's Research Hospital. you will never receive a bill. They do bill insurance but the family will not pay co-pays, lodging costs, food etc. Even if your child has to stay for an extended period of time. I know personally how stressed out I was thinking about the financial burden Scott's cancer treatment was going to be. We had great insurance fortunately — but think about it – I was already overwhelmed and emotional about his cancer diagnosis in general. Add to that  — how am I going to pay for this? Knowing that you would do anything to save the child/husband/family member you love. And then to walk into St. Jude and be told – don't worry. We got you. First disbelief, then relief and you can focus on the big stuff – getting your child well.
Donations support the hospital.  – Last I checked, 81 cents of every dollar donated goes directly towards research and treatment. Based on the info they shared with us, it costs $2.2 million dollars a day to run the hospital and research facility.  No non-profit can claim 100% of their donations go directly towards their mission because there are always costs associated with running any non-profit. Considering what a large organization St. Jude Children's Research Hospital is, 81 cents out of every dollar donated is pretty impressive.
St. Jude Children's Research Hospital is making a difference. – When they opened in Feb 1962, their overall survivor rates were under 20%. Today, it's around 80%. They also study other diseases like malaria, sickle cell disease to name just a few. Clearly, they are definitely making a huge impact that resonates globally.  Their research is released to the public and freely available to any research facility, doctor, scientist and/or patient.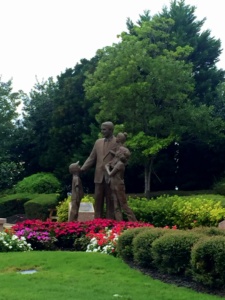 Danny Thomas – The story behind the building of St. Jude Children's Research Hospital is inspiring.  Mr Thomas made a vow and he kept it and enlisted countless friends and visionaries to help.  He believed strongly "No child should die in the dawn of life"  and who in their right mind would disagree.
They pay attention to details. – Here are few of the services and details I noticed:
They have an on site school so kids can keep up with their school work.
They have their own gardens so they can prepare food using the fresh product (farm to table) as much as possible. And when not possible, they work with the local CSA to grow the crops and offer a Farmer's Market monthly on site.
Their utensils, etc are as eco-friendly as possible.
They have Child Patient Specialists to work with the patients to help them understand what's going on in an age-appropriate way.
Legacy Services – End of life is unfortunately something that does happen – they offer services and legacy keepsakes to help.
Milestone Events – graduations, proms, dances, parties including No More Chemo parties!
Wagons – when possible, the patients are wheeled around in red wagons instead of wheel chairs – keeping some of their childlike magic in tact.
The Hospital – obviously it's state of the art, but it doesn't smell like a hospital. It may be because of the high end air filtration systems, but it was nice to not be inundated with that sterile, alcohol smell common to most medical facilities.  And the walls are adorned with colorful, gorgeous murals and large images of their patients. It's a warm, inviting place to be — which is awesome AND surprising since it's not like the hospitals I have seen or visited before.
This trip meant the world to me – Seeing sick kids is hard but I was able to meet some amazing people (bloggers, St. Jude Children's Research Hospital staff, families, people from Memphis to name a few) and I left there feeling hopeful and inspired – ready to figure out how I can do my part to help.  The topic of cancer has always been threaded throughout this blog — so helping spread its important mission and work fits in perfectly. I will be sharing more about my trip, St. Jude Children's Research Hospital, and ways we can all help, so stay tuned…