supplements
0
I got so busy yesterday that I forgot to post – I try to sit down every morning and write. It's a way for me to reflect and relax but yesterday was kind of a crazy day. So, here I am back at it again today.
I've started to really focus on my marketing consulting business this year. Now that I have the time and the momentum, it just feels right. I recently took on two more clients for a total of three so far. And have met with a lot of other people who are doing exactly what I hope to do – run their own small business, with a steady group of good clients, interesting projects and freedom. It's not an option I had really considered before, but the more I get into it -it really does seem like it could work out pretty darn well for me. I'm happier, more organized and just feel better.
Are you Magnesium Deficient?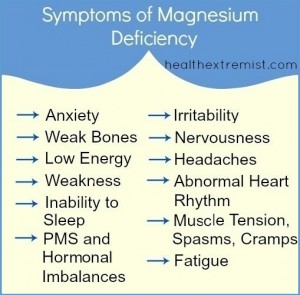 I wanted to talk once again about Magnesium, and how important this mineral is to all of us and how many people don't realize that a lack of it is the reason for many of their ailments . The reason I mention it again is because I have been forgetting to drink Natural Calm, and sure enough, have been experiencing a lot of the symptoms mentioned in the graphic on the right.  I have remembered this week – and I feel so much better.  Do your own research on magnesium, but if you are experiencing more than 4-5 of these symptoms, it could be caused by low magnesium. Food for thought…
Read This!
Workout
Two more PRs this week:
Bench: 130#
Deadlift! 250#. I think I could have done more but I ran out of time because I had to go to get the kiddos ready for school this AM. I may retest on Saturday.
Back Squat: 220#
Clean: 120# (I can't get that damn technique down yet!)
0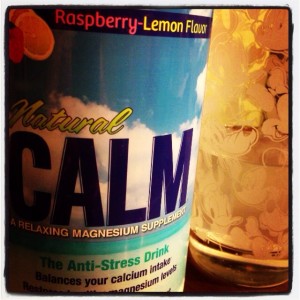 After working on a specific strength program for 12 weeks at Highbar CrossFit, the time has come to test and see the progress. Yesterday, I got a 5# PR on my Squat clean. Today – my back squat! PR'd by 10# to end at 220# although I think I could have done more – ran out of time and had to get home to get the kids off to school. Sometimes you have to leave some in the tank to take care of life.
I feel so great about my progress. The coaches at Highbar take such a different approach to strength training that sometimes I think maybe it's not working, but then you test and you are a whole hell of a lot stronger than you realized.  But then I remind myself that i am still starting out by doing something pretty stupid.
After getting my PR this morning, I am taking the plates off the bar. I don't think I have ever had plates that heavy on a barbell before, so it never occurred to me to take the plates off in any particular way. Well think about it –heavy plates on each side, removing all the plates off of one side before the other… Yeah, the bar was a teeter totter and went flying. I am so lucky that no one was around it because it could have done some serious damage. The only damage done was to my EGO as everyone stopped, became silent, and then laughed at me. Coach Dan then said Do you even lift, Bro?. I'm always learning…
I gotta talk about the benefits of Magnesium again. I sometimes forget to take it and then get in the routine of skipping it for days on end. Then I remember to take it and quickly remember why I should take it. The last two days, I've been taking Natural Calm before I go to bed and I am telling you – the difference in how I feel when I wake up is night and day. I am not sore, not groggy, not super exhausted.
Yesterday, I shared a link about symptoms of a Magnesium Deficiency, but the bottom line is that a magnesium deficiency can affect virtually every system of the body. It's that important to your overall health and wellness.  My suggestion is to talk to your doctor, of course, but add a glass of Natural Calm before you go to bed for awhile and see if you feel better.
Workout
Mobility
Back Squat 1RM: 220 (10# PR)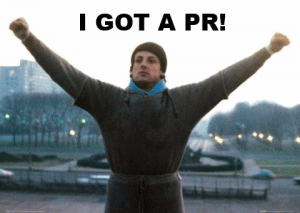 Read This
For Laughs
11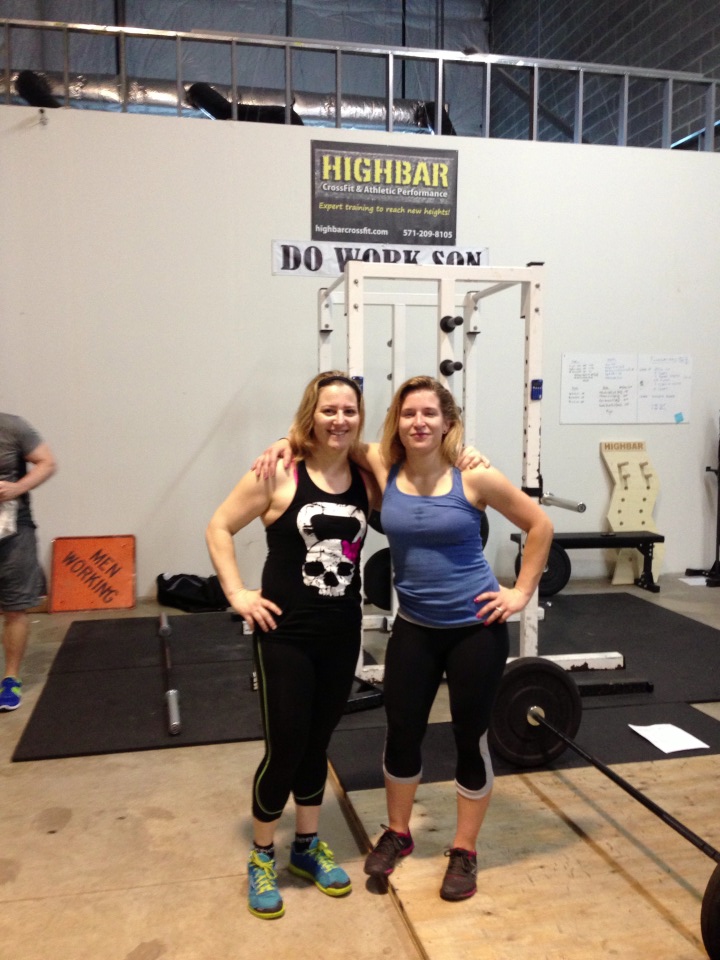 I had so much fun working out this AM because my friend Liz came and joined me! I am off of work today and didn't have to get up for the 6A but had to because I didn't want to miss working out with her! We had so much fun — Reunited and it feels so good!
I have been taking my magnesium supplement for five days now and I am pretty sure it has made a huge difference in the way I feel. I am sleeping better overall and my muscles are just feeling less taxed all the time. The real test will come during my 'female hormone poisoning' time of the month. I suffer from some bad symptoms and I hope this will help me feel better. If the first five days are any indication of it working, then I should!
I will be at the Mid-Atlantic CrossFit regionals Saturday and Sunday — volunteering for the CF Media team and also helping my friends out at Power Supply sell food and talk about their company. If you are there – make sure you stop and say HI! I love meeting people outside of the cyber world – so don't be shy!
warmup
200m jog
10 squats
10 push ups
4 instep lunges
4 sampson stretch
10 squats
lift
Deadlift
3 sets of 5 reps at #180
WOD
3RFT
20 wall ball shots #10
45 sec mountain climbers
50 double unders/150 jump ropes
45 sec wall sits
Time: 12:00