weather
4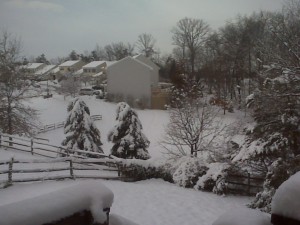 Woke up at 5a as usual this AM and we had about 9in on the ground. I had shoveled a bit last night so it was possible that I was going to be able to leave for boot camp this AM. Scotty told me that I shouldn't consider it — the roads looked icy but crazy me decided to delay the workout and go to the 645A class.  Much to Scott's chagrin, he got his snow crap on and both of us headed out to shovel the driveway. We had a snow dam at the end of the drive from the plow and that was what proved to be the toughest part. I don't mind shoveling – it's hard manual labor that makes for a good workout.
While we were shoveling, one of the neighbors was walking by (it's 545a) and I said 'What are you doing?'. She told me she had to get to work and didn't have time to shovel out the drive. So I said grab a shovel – let's get this done and I will drive you to work. We finished in about 15m flat – we got in the car and she made it to work on time.  It's about Teamwork!
When I got to boot camp -Kimmy was the only person who had showed up for the 545A class and it looked like i was going to be the lone camper for the 645A but 5m into the workout — Greg showed up and both of us did the camp together!
Today's workout included hang snatches! Hang snatches are tough! Here's a Crossfit Video showing you what they are: